Hey,
Head over to Shell's Blog,
Things I Can't Say
. She chose me as BFF today because she is awesome and probably had a feeling I was getting ready to stalk her in order to be her real BFF. I still may.
I am very excited and I am going to eat cupcakes all day to celebrate. I would love it if you celebrated with me.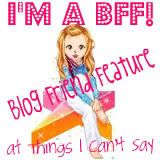 Back to the usual strangeness around here!!
Facebook just became creepy and traumatic.
I clicked on the Friend Finder button to look up an old teacher friend.
Little did I know Facebook had hundreds of potential friends in mind for me.
One suggestion was blogger I read. I like the blogger so that itself is not creepy. What is creepy is - How did Facebook know I even read the blog? Is my Google communicating with my Facebook? If so, that is creepy, but in a good way as we are Facebook friends now.
The next suggestion was a neighbor of mine. I figured Facebook had compared our addresses and decided we should be friends. That seemed weird because it hadn't suggested any other neighbors. I quickly realized that it probably HAD suggested other neighbors and I just didn't recognize them. Facebook knows my neighbors better than I do! CREEP-Y. But still good creepy as I "friended" the neighbor too.
Next I came across a suggestion to befriend my high school boyfriend, Stodd Stones - name changed to protect the innocent. Actually I was glad to see him and I did scroll through his pics to see his kids. I didn't request to be his friend though because The Coach and I have a Facebook rule. He is allowed to friend all past girlfriends, flirts, and skanks who hit on him after a couple of beers, but I am not. Besides Stodd has never requested to be my friend either so I figure he may have some form of the rule in his house too. (My husband says it is creepy that I checked out his pics. I don't think so. We had been friends since the 7th grade and our break up was one of those amicable "I found someone else at college" type deals, so I am NOT creepy.)
Back to the story.
After that the suggestions got even creepier. They began to remind me of my painful adolescence.
I recognized Jonny Dames - name changed to protect the innocent. I sat next to him in seventh grade biology. He once told me that my runny nose was annoying. Well! If I friended him now I would point out that I am allergic to every tree, plant, pollen and grass in Texas. I would also point out to him that it was a good thing my olfactory senses were compromised because he had a sweat issue. Anyone else might have been annoyed by the smell.
And finally not knowing the residual trauma they were putting me through Facebook suggested I friend Jarius Dones - named changed to protect the cruel. Back in elementary school I developed a crush on Jarius Dones - mostly because Rusty Roup (Real name. I couldn't make that up. ) reported that Jarius like me. I talked about him at home, Jarius this, Jarius that. My parents were mildly shocked when they attended a school function and realized Jarius was black. I guess it wasn't what they were picturing. What can I say? I am an equal opportunity crusher.
Anyway Jarius covered up his intense love for me by not speaking to me for five years. Then in the eighth grade he felt the need to point out to me and the whole gym class that my left boob had grown in, but not my right. Looking back I guess a bra would have corrected this problem, but who knew?
I was almost compelled to friend him and let him know that I now have two matching boobs. I quickly realized the prime time to do this passed about fifteen years ago before I started having kids. Oh well. I do hope to glance through some of Jarius' pictures one day and see that he has a large zit, or maybe wrinkles. I will gather my friends around and we can all laugh at him as payback.
I don't know how though I am going to get back at Facebook for making relive that trauma.
Maybe Facebook could suggest a good therapist.
Creepy.
Have you come across any old or interesting friends on Facebook?